Brightonix Imaging presents AI solutions for brain PET imaging at SNMMI 2022
Post by

관리자
Date

2022-06-17
Brightonix Imaging presents AI solutions for brain PET imaging at SNMMI 2022
Validations of automated quantification analysis software for amyloid PET and DAT PET to aid diagnosis of Alzheimer's disease and Parkinson's disease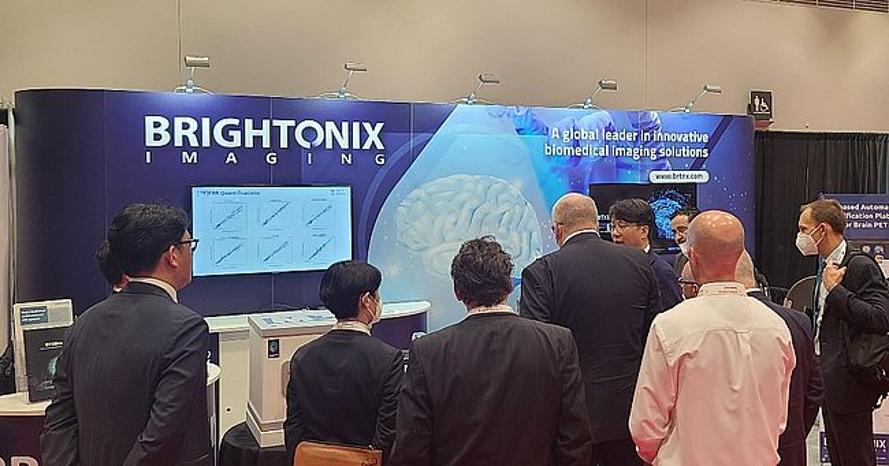 Brightonix Imaging, a medical imaging solution developing company, announced on the 16th June 20022 that it exhibited the latest AI solutions for dementia image analysis and small animal PET system for PET/MRI at the annual meeting of Society of Nuclear Medicine and Molecular Imaging (SNMMI) held at the Vancouver Convention Center in Canada from the 11th to the 14th June 2022.
In the SNMMI, researchers at Seoul National University and Brightonix Imaging announced the validation results of amyloid PET and dopamine PET automatic analysis software to support the diagnosis of Alzheimer's dementia and Parkinson's disease. In addition, collaboration possibilities were discussed with radiopharmaceutical companies such as Eli Lilly, Merck, and LMI to develop Tau PET quantitative analysis technologies.
Jae Sung Lee, CEO of Brightonix, who is also a professor at the department of nuclear medicine of Seoul National University, was invited as a keynote speaker at the Workshop on Fast Timing in Medical Imaging held in Valencia, Spain, for three days from the 3rd June. He introduced the current status of development of brain-dedicated PET scanner equipped with precision timing measurement technology and AI solutions of Brightonix imaging.
Brightonix Imaging is invested by K-Net Investment, an early investor in Krafton, which created the popular shooting game "Battleground". Recently, it received 6 billion won worth of Series A investment from Hana Ventures and TS Investment. Two years after its establishment, it supplied a PET system to NIH in the U.S., and was selected as the principal investigator of a 14 billion won project supported from the Korean Medical Device Development Fund.
Brightonix Imaging's AI-based brain image quantitative analysis software was developed with the support from the Seoul Business Agency's bio-medical technology commercialization support project, and the development of a brain-dedicated PET system is supported by the Korea Medical Device Development Fund.
출처 : MEDI:GATE NEWS 브라이토닉스이미징, 치매영상 신기술 북미핵의학분자영상학회서 발표 (medigatenews.com)